In between my reread of The Graceling Realm novels by Kristin Cashore and my new found love for Regency Era Vampire Romance (which we'll talk about in a few more weeks), I've managed to read a few new things that deserve a mention. While this wasn't the best reading run I've had, it wasn't the worst.


read more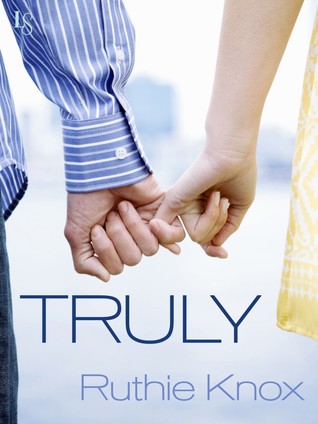 Expected publication: August 5th 2014
Publisher: Loveswept
Website: Author
Info: Goodreads
May Fredericks hates New York. Which is fair enough, since New York seems to hate her back. Just weeks after moving from Wisconsin to Manhattan, she receives the world's worst marriage proposal, stabs her boyfriend with a shrimp fork in a very public venue, and accidentally becomes notorious. And that's before she gets mugged.

At her wit's end, May washes up at a Packers bar in Greenwich Village, where she meets a surly, unhelpful guy who hates her shoes and calls her ex a douche.

His name is Ben. He used to be a chef. Now he's a rooftop beekeeper with anger management issues. She wouldn't even like him, but he reminds her of home … and he knows where to find all the best food in the Village.

She makes him laugh. He buys her tacos and cowboy boots. The longer they're stuck together, the better May and Ben get along … and the harder they fall. TRULY is a quirky, modern New York love story unlike any you've read before.

I was always going to read this. Always. Ruthie Knox has shaken my world in terms of what to expect out of contemporary romance, and by that I mean, she's spoiled me so that I will only accept the very best. I missed Truly's initial debut on Wattpad because reading things in yet another way was a new trick that this old dog wasn't quite into at the time. Then lo' it appeared on Netgalley, bathed in glitter and light and thus it became mine.


read more
Man I love trashy romance novels. Really. I love them to the point that I've stopped apologizing for liking them. I no longer feel the need to say "I recommend this book even though it's a trashy romance novel." But rather I've moved on to "I recommend this book BECAUSE it is a trashy romance novel!" Let me break it down for those of you who still haven't gotten on board the Naughty Bits and Happy Endings Choo-Choo Train to Candy Land- these books are HAPPY. EVERYONE IS HAPPY. EVERYTHING IS HAPPY. EVEN BAD THINGS ARE HAPPY. AND IT MAKES ME  HAPPY.
It's glorious really, sitting down with a book that I know I'm not going to walk away with any bad feelings from. I love good stories. I like emotions and feelings and lessons and all that other shit and I'll never stop reading literature of real substance but by god, when I think about sitting down and relaxing with a book and GETTING THE FUCK ALL AWAY FROM REAL LIFE, I want a romance novel.

Author: Tiffany Reisz
Publisher: Harlequin Mira
Date: July 24th 2012
Pages: 400
Genre: Romance- Erotica
Source: Netgalley

From Goodreads: Notorious Nora Sutherlin is famous for her delicious works of erotica, each one more popular with readers than the last. But her latest manuscript is different—more serious, more personal—and she's sure it'll be her breakout book…if it ever sees the light of day.

Zachary Easton holds Nora's fate in his well-manicured hands. The demanding British editor agrees to handle the book on one condition: he wants complete control. Nora must rewrite the entire novel to his exacting standards—in six weeks—or it's no deal.

Nora's grueling writing sessions with Zach are draining…and shockingly arousing. And a dangerous former lover has her wondering which is more torturous—staying away from him…or returning to his bed?

Nora thought she knew everything about being pushed to your limits. But in a world where passion is pain, nothing is ever that simple.
Warning: This review contains
angst
and
words
.

Author: Juliana Ross
Publisher: Carina Press
Date: April 23, 2012
Genre: Romance- Erotic
Source: Publisher
As the widowed companion to her late husband's stodgy old aunt, Hannah has little excitement in her life. Left with nothing after her husband's death, Hannah's safety and security are entirely dependent on an employer who pays her only in room and board. Perhaps her job's only perk is the rarely used library where Hannah spends what little free time she has. When a stolen reading hour is interrupted one afternoon by Leo, the rumored bad boy of the family, Hannah is witness to a romantic liaison that she didn't even know was possible. Leo is well aware that he has an audience, and graciously inclines an offer of similar services to Hannah. A brief marriage lacking in affection and the hopelessly drear situation in her employer's home, has Hannah longing to accept the invitation. But an affair with such a man, one so far above her station, could mean jeopardizing the only security Hannah knows.
I open the book, start reading and HELLO NAUGHTY BITS. And we didn't even have dinner first! But rather than feeling cheap and used, I was instantly captivated. The story and each of Leo's "lessons" with Hannah are told in such a matter of fact tone that the erotic elements of the story fit instantly into place. After all, they are driven entirely by education- right? Leo introduces our sheltered little heroine to vast array of experiences that aren't usually mentioned in polite conversation. Rather than coming across as just a story full of cheap thrills, their encounters instead serve to highlight the bleakness of Hannah's situation to such an extent that you can't help but wish for it, if only for her sake.
The story fit perfectly within the space constraints of a novella (one doesn't always need three entire novels worth of gratuitous sex to get the point across) and I liked that it stayed within a nice, neat, tidy little space in Hannah's world. Inevitably, their naughty trysts led to an emotional attachment, albeit a risky one, where Hannah is concerned. And I do so love a good romance. Even more to its credit, it's surprising well written, and brief enough to not be dampened by repetition.
This is my first experience with a title from Carina Press, an imprint of Harlequin that boasts more than a few saucy eBook titles.
A Rogue By Any Other name

Author: Sarah MacLean
Publisher: Avon
Date: February 28, 2012
Pages: 386
Genre: Romance

From Goodreads: What a scoundrel wants, a scoundrel gets . . .

A decade ago, the Marquess of Bourne was cast from society with nothing but his title. Now a partner in London's most exclusive gaming hell, the cold, ruthless Bourne will do whatever it takes to regain his inheritance—including marrying perfect, proper Lady Penelope Marbury.

A broken engagement and years of disappointing courtships have left Penelope with little interest in a quiet, comfortable marriage, and a longing for something more. How lucky that her new husband has access to such unexplored pleasures.

Bourne may be a prince of London's underworld, but he vows to keep Penelope untouched by its wickedness—a challenge indeed as the lady discovers her own desires, and her willingness to wager anything for them . . . even her heart.
It took me a lot longer than I expected to make peace with this book. I went into it expecting nothing less than instant love and further fodder for my MacLean fangirlism, so it came as quite a shock when instalove failed to happen. What was even more surprising was that when the book was finished, I was unable to pinpoint just what the story made me feel.
Penelope is a far cry from MacLean's traditional heroines which are of the stubborn, pig-headed, gutsy variety. Penelope was an overly self-conscious, insecure, bullied woman who felt nothing was due to her, not even her own happiness. She was so extremely pitiful at times that I started to wonder if the self-loathing really was going to be the sum total of her character traits, leaving no room for any of the traits I've come to expect in a MacLean leading lady. Whenever she was given an opportunity to display some gumption, her attempts were still flimsy and she never really stopped asking permission or seeking acceptance.
I was equally as disenamored with Bourne, our unscrupulous bad boy whose past and present misdeeds have left him out of favor with the highly judgmental ton. A leading man who is a notorious rake, has a colorful past and leads a slightly suspect life are traits of the standard issue romance hero. These things are perfectly acceptable in a playboy but Bourne's character was just….mean! He was entirely unpolished, heartless and his treatment of Penelope bordered on abusive. The dry, sarcastic, often boorish, MacLean hero with his devil-may-care attitude never appeared and I was left struggling to find any sympathy or connection with him.
Oddly enough, some of my favorite moments in the book occurred at times when Penelope was at her least likable. Her opinion of herself is so very low that there were instances where my heart nearly broke at her acceptance of deserving so very little in life. I hurt for her to the point of tears and I can't help but wish more for her than what (and who) she ultimately ended up with. This is sad because their past relationship was so much more intriguing than their current one. I absolutely adored, with all the adoration there is, the letters at the beginning of each chapter. I'm such a dunce. I didn't even realize who it was she was writing to until about halfway in.
I'm very much aware that I'm being a bit hypercritical of characters in a romance novel and I also realize that it's probably a bit selfish (with a wee touch of hypocrisy) to expect an author to follow the same formula that she's been using for every book. Maybe my struggle is with myself and not the writing. It's perfectly reasonable to want to explore a character from a different angle so perhaps I just need to get with the program. I did so enjoy her Love by Numbers series and I guess I'm just kind of nostalgic for that type of story.