In between my reread of The Graceling Realm novels by Kristin Cashore and my new found love for Regency Era Vampire Romance (which we'll talk about in a few more weeks), I've managed to read a few new things that deserve a mention. While this wasn't the best reading run I've had, it wasn't the worst.


read more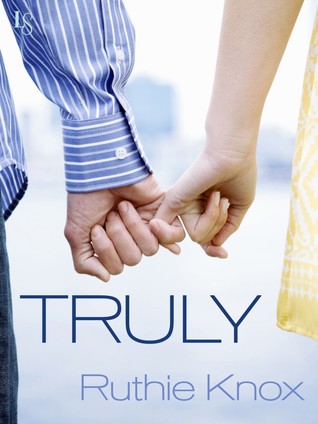 Expected publication: August 5th 2014
Publisher: Loveswept
Website: Author
Info: Goodreads
May Fredericks hates New York. Which is fair enough, since New York seems to hate her back. Just weeks after moving from Wisconsin to Manhattan, she receives the world's worst marriage proposal, stabs her boyfriend with a shrimp fork in a very public venue, and accidentally becomes notorious. And that's before she gets mugged.

At her wit's end, May washes up at a Packers bar in Greenwich Village, where she meets a surly, unhelpful guy who hates her shoes and calls her ex a douche.

His name is Ben. He used to be a chef. Now he's a rooftop beekeeper with anger management issues. She wouldn't even like him, but he reminds her of home … and he knows where to find all the best food in the Village.

She makes him laugh. He buys her tacos and cowboy boots. The longer they're stuck together, the better May and Ben get along … and the harder they fall. TRULY is a quirky, modern New York love story unlike any you've read before.

I was always going to read this. Always. Ruthie Knox has shaken my world in terms of what to expect out of contemporary romance, and by that I mean, she's spoiled me so that I will only accept the very best. I missed Truly's initial debut on Wattpad because reading things in yet another way was a new trick that this old dog wasn't quite into at the time. Then lo' it appeared on Netgalley, bathed in glitter and light and thus it became mine.


read more
Man I love trashy romance novels. Really. I love them to the point that I've stopped apologizing for liking them. I no longer feel the need to say "I recommend this book even though it's a trashy romance novel." But rather I've moved on to "I recommend this book BECAUSE it is a trashy romance novel!" Let me break it down for those of you who still haven't gotten on board the Naughty Bits and Happy Endings Choo-Choo Train to Candy Land- these books are HAPPY. EVERYONE IS HAPPY. EVERYTHING IS HAPPY. EVEN BAD THINGS ARE HAPPY. AND IT MAKES ME  HAPPY.
It's glorious really, sitting down with a book that I know I'm not going to walk away with any bad feelings from. I love good stories. I like emotions and feelings and lessons and all that other shit and I'll never stop reading literature of real substance but by god, when I think about sitting down and relaxing with a book and GETTING THE FUCK ALL AWAY FROM REAL LIFE, I want a romance novel.

Author: Tiffany Reisz
Publisher: Harlequin Mira
Date: July 24th 2012
Pages: 400
Genre: Romance- Erotica
Source: Netgalley

From Goodreads: Notorious Nora Sutherlin is famous for her delicious works of erotica, each one more popular with readers than the last. But her latest manuscript is different—more serious, more personal—and she's sure it'll be her breakout book…if it ever sees the light of day.

Zachary Easton holds Nora's fate in his well-manicured hands. The demanding British editor agrees to handle the book on one condition: he wants complete control. Nora must rewrite the entire novel to his exacting standards—in six weeks—or it's no deal.

Nora's grueling writing sessions with Zach are draining…and shockingly arousing. And a dangerous former lover has her wondering which is more torturous—staying away from him…or returning to his bed?

Nora thought she knew everything about being pushed to your limits. But in a world where passion is pain, nothing is ever that simple.
Warning: This review contains
angst
and
words
.

Author: Juliana Ross
Publisher: Carina Press
Date: April 23, 2012
Genre: Romance- Erotic
Source: Publisher
As the widowed companion to her late husband's stodgy old aunt, Hannah has little excitement in her life. Left with nothing after her husband's death, Hannah's safety and security are entirely dependent on an employer who pays her only in room and board. Perhaps her job's only perk is the rarely used library where Hannah spends what little free time she has. When a stolen reading hour is interrupted one afternoon by Leo, the rumored bad boy of the family, Hannah is witness to a romantic liaison that she didn't even know was possible. Leo is well aware that he has an audience, and graciously inclines an offer of similar services to Hannah. A brief marriage lacking in affection and the hopelessly drear situation in her employer's home, has Hannah longing to accept the invitation. But an affair with such a man, one so far above her station, could mean jeopardizing the only security Hannah knows.
I open the book, start reading and HELLO NAUGHTY BITS. And we didn't even have dinner first! But rather than feeling cheap and used, I was instantly captivated. The story and each of Leo's "lessons" with Hannah are told in such a matter of fact tone that the erotic elements of the story fit instantly into place. After all, they are driven entirely by education- right? Leo introduces our sheltered little heroine to vast array of experiences that aren't usually mentioned in polite conversation. Rather than coming across as just a story full of cheap thrills, their encounters instead serve to highlight the bleakness of Hannah's situation to such an extent that you can't help but wish for it, if only for her sake.
The story fit perfectly within the space constraints of a novella (one doesn't always need three entire novels worth of gratuitous sex to get the point across) and I liked that it stayed within a nice, neat, tidy little space in Hannah's world. Inevitably, their naughty trysts led to an emotional attachment, albeit a risky one, where Hannah is concerned. And I do so love a good romance. Even more to its credit, it's surprising well written, and brief enough to not be dampened by repetition.
This is my first experience with a title from Carina Press, an imprint of Harlequin that boasts more than a few saucy eBook titles.
A Rogue By Any Other name

Author: Sarah MacLean
Publisher: Avon
Date: February 28, 2012
Pages: 386
Genre: Romance

From Goodreads: What a scoundrel wants, a scoundrel gets . . .

A decade ago, the Marquess of Bourne was cast from society with nothing but his title. Now a partner in London's most exclusive gaming hell, the cold, ruthless Bourne will do whatever it takes to regain his inheritance—including marrying perfect, proper Lady Penelope Marbury.

A broken engagement and years of disappointing courtships have left Penelope with little interest in a quiet, comfortable marriage, and a longing for something more. How lucky that her new husband has access to such unexplored pleasures.

Bourne may be a prince of London's underworld, but he vows to keep Penelope untouched by its wickedness—a challenge indeed as the lady discovers her own desires, and her willingness to wager anything for them . . . even her heart.
It took me a lot longer than I expected to make peace with this book. I went into it expecting nothing less than instant love and further fodder for my MacLean fangirlism, so it came as quite a shock when instalove failed to happen. What was even more surprising was that when the book was finished, I was unable to pinpoint just what the story made me feel.
Penelope is a far cry from MacLean's traditional heroines which are of the stubborn, pig-headed, gutsy variety. Penelope was an overly self-conscious, insecure, bullied woman who felt nothing was due to her, not even her own happiness. She was so extremely pitiful at times that I started to wonder if the self-loathing really was going to be the sum total of her character traits, leaving no room for any of the traits I've come to expect in a MacLean leading lady. Whenever she was given an opportunity to display some gumption, her attempts were still flimsy and she never really stopped asking permission or seeking acceptance.
I was equally as disenamored with Bourne, our unscrupulous bad boy whose past and present misdeeds have left him out of favor with the highly judgmental ton. A leading man who is a notorious rake, has a colorful past and leads a slightly suspect life are traits of the standard issue romance hero. These things are perfectly acceptable in a playboy but Bourne's character was just….mean! He was entirely unpolished, heartless and his treatment of Penelope bordered on abusive. The dry, sarcastic, often boorish, MacLean hero with his devil-may-care attitude never appeared and I was left struggling to find any sympathy or connection with him.
Oddly enough, some of my favorite moments in the book occurred at times when Penelope was at her least likable. Her opinion of herself is so very low that there were instances where my heart nearly broke at her acceptance of deserving so very little in life. I hurt for her to the point of tears and I can't help but wish more for her than what (and who) she ultimately ended up with. This is sad because their past relationship was so much more intriguing than their current one. I absolutely adored, with all the adoration there is, the letters at the beginning of each chapter. I'm such a dunce. I didn't even realize who it was she was writing to until about halfway in.
I'm very much aware that I'm being a bit hypercritical of characters in a romance novel and I also realize that it's probably a bit selfish (with a wee touch of hypocrisy) to expect an author to follow the same formula that she's been using for every book. Maybe my struggle is with myself and not the writing. It's perfectly reasonable to want to explore a character from a different angle so perhaps I just need to get with the program. I did so enjoy her Love by Numbers series and I guess I'm just kind of nostalgic for that type of story.
Third Grave Dead Ahead

Author: Darynda Jones
Publisher: St. Martin's Press
Date: January 31, 2012
Pages: 310
Genre: Paranormal Romance
When you're The Grim Reaper, you can pretty much count yourself as exempt from some of the everyday things people struggle with. I mean, you still have to pay taxes and such (because Uncle Sam has an even greater reach) but you're pretty hard to kill so the odd ass kicking here and there isn't that big of a deal and you don't have to fear the things that go bump in the night. But as a general rule of thumb, it's still probably best if you don't royally piss off the son of Satan by permanently tethering his soul to a human body. Charley had a hunch that doing so could be detrimental to her own personal safety but considering the fact that she never got The Grim Reaper 101 handbook with its list of no-nos, she went ahead and did it anyway. Angry would be a walk in the park compared to what Reyes is feeling at the moment, so he lashes out the only way he can. Even tied to his human body, Charley is still only one dream away and every time she closes her eyes, he makes sure he is there.
Sleep deprived (because we all know what he can do with a dream), Charley carries on with her day job as a private investigator. A case of a missing wife finds its way to her in the form of a seemingly distraught husband that just reeks of a guilt that only the supernatural can sniff out. With a woman's life on the line, the clock is ticking and Charley has to hurry up and get her hands on her missing person before Reyes gets his hands on Charley.
Just what are you trying to do to me, Jones? Reyes is there, he's not there, he might be there, he's there but not there there and oh wait he is there there. It's like an all you can eat buffet of Reyes and I'm aiming to get kicked out for gross over-indulgence. God I love this relationship. There would be all kinds of red flags and danger signs if it was actually real but the majority of Charley's interaction with Reyes is only in her head. Gives new meaning to the term mindfuc- er moving on…
This is the third installment (thus the title) in the series and I'm happy to report that it hasn't slacked off yet and with an ending that further complicates the situation, no signs of slacking off are even on the horizon. I've said it before, but I'll say it again- I love that Charley is ridiculously good at her job. The mundane one, not the supernatural (she's good at that too, but it's kind of morbid to declare death a good thing). I think it's what keeps me so tied to the character and the stories. I know I'm always in for a good show with very little slapstick to cover up an incompetent character. Charley is tackling a couple of cases at once in this book. There's the missing woman with the less than innocent husband but she's also on the trail of someone who is suppose to be dead. It's all well in good if the dead guy is in fact dead, but if he isn't, there's someone close to Charley with a ten year vested interest in his whereabouts.
There. You've been thoroughly teased. Go take a cold shower.
Kick ass cover btw.
I took a quick shower, pulled my hair into a ragged ponytail , and dressed in a pair of comfortable jeans, a loose black sweater, and a pair of killer boots I got off a biker for a lap dance. He was pretty darned good, too, after I got past my aversion to back hair.
Unsticky

Author: Sarra Manning
Publisher: Headline Review
Date: May 2009
Pages: 562
Genre: Fiction- Romance
At 562 pages, this is perhaps the longest contemporary chick-lit novel that I have ever encountered- and I think towards the end I would have sold a quarter of my soul for 562 more.
I don't even know where to begin talking about this book. I'm supposed to provide you with instances that I liked, giving you tiny little teasing insights into the story. But how can I when I loved every single word on every single page. Even the thes, ands and buts.
When I'm down in the dumps, or suffering from a case of the mean reds (look it up), I shop. There's nothing more therapeutic than a pretty pair of shoes or a sparkly pair of earrings or for us book whores, a stack of glossy new covers, to put a little light into our day or help us escape from whatever baddie that has lodged itself into our heads. It's silly, I know, but it comes with being a girl, this idea that if something can make us feel a little prettier, for even a second, it will offset the effect of whatever is bringing us down. There isn't a woman alive that doesn't want to feel pretty and even fleeting seconds of pretty can offset a whole day full of hurt.
Grace is a regular girl, who earns a crap wage at a thankless job. She's consistently unlucky in love and has no new prospects on the horizon, romantically or financially so. There's nothing quite as soul constricting as the feeling of not being able to get out, of being not just stuck in a bad situation but resigned to it. And that's where Grace is, and she's miserable. So when the money isn't even enough to keep the lights on, why not spend what you don't have on something that can give you a quick fix of feel better. Grace shops, buying outrageously expensive and beautiful things in the hopes that reveling in such luxury, even for a moment, will fill the hole that living her life leaves. When she is unceremoniously dumped by her latest fuckwit boyfriend, on her birthday, in her favorite store, it's just about the extent of all she can handle. Not use to playing the damsel in distress, Grace is understandably suspect when a kindly gentlemen ushers her away from the embarrassing scene and plies her with champagne and chocolate cake.
Vaughn is a far cry from the valiant knight on a white horse. He's selfish, moody, demanding and at times deliberately hurtful, making him a poor candidate for a relationship. He is, however, filthy rich and when he offers Grace a nontraditional romantic arrangement that could put an end to her financial troubles, Grace is left with a decision that could further alienate her from the life she truly wants to lead but could possibly give her the security she so desperately desires. It comes down to a matter of just what she's willing to do and what she's willing to give up, for money.
So yes, we have here a proposed case of negotiable affection. At a whopping $14,000 pounds a year, Grace's job barely affords food so I didn't blink when she accepted Vaughn's indecent proposal. Ladies, rich good looking men do not pick up sniveling poor girls in department stores and offer to give them tons of money and buy them clothes, so your wanton soul will not be condemned to hell if you go ahead and live vicariously through Grace. It -is- OK.
I loved Grace. Loved Loved Loved her. She was so instantly relatable that the older me had to keep reminding the younger me that she is a fictional character and no we can't go have lunch together and be friends. She's smart, creative, unique and so deserving of a better life that I couldn't judge her for anything she did.
And Vaughn, poor unbelievably fucked in the head, bipolar asshole that he is, I loved him too. I loved him because despite his emotional infancy, he isn't a bad guy- at least not in terms of infidelity, rakishness or dishonesty. He maintains monogamous, honest relationships with well defined emotional and physical restraints that have a preordained shelf life. For him it's merely a defense against heartache as he doesn't feel he's much of a catch either. A wise woman once told me that a woman would rather be with a bank robber than a cheater and Vaughn is a one woman man, even if he isn't the kind that's in it for the long haul. I really love that about him. It's in such stark contrast to the nature of their relationship that you can't help but get attached.
This book, THIS book. I swear, I went through so many emotions reading this and the last 75 pages resulted in an unforeseen snot fest that I wouldn't have missed for the world. I really had no idea how things were going to end and I went ahead and prepared myself for the worst- and I won't tell you if it came to that or not. Ha ha.
This book hasn't been published in the US and I had to adopt my copy from overseas. It came to me damaged, spine broken, cover pealing and pitiful and I'm torn between wanting a shiny new copy to keep forever and holding on to this one that has the look of a book well loved. I'm already on the prowl for more of Manning's books as I suspect we have a long and lovely future together in store for us.
'Gran, this is Vaughn. Vaughn, this is my grandmother, Jean.'
They shook hands, because her grandmother's generation didn't do air kisses, and then sized each other up like two dogs warily circling each other, before one of them decided to go for the throat.
'Grace has told me a lot about you,' Vaughn said politely, his face wearing a smiling Vaughn mask that didn't even look like him. 'It's good to finally meet you.'
'Well, she's told me very little about you,' her grandmother replied because she'd survived a war, one stillbirth, a daughter who'd got knocked up at seventeen and ten years of a Labour government, and she didn't take shit from anyone.
More love for Unsticky:
Angie @ Angieville
Holly @ The Book Harbinger
It's no secret that I love trashy historical romance novels. In the past I have tried to hide it but now I'm proud to be branded as a shameless romance book hussy. And why shouldn't I? Have you ever read one? Did you get caught up in the magic and romance and lust and all out joy that only a work of pure escapism can bring? If you haven't you should probably try it or else the cool kids are going to start rumors about you being frigid.
As I've mentioned before, I'm systematically (the system being which ever book I can find for the least expense at the time) working my way through Sarah MacLean's list of must read romances. She hasn't let me down yet. Two of her picks happen to be of the piratical persuasion and take place at sea, aboard a ship that has only just turned semi-respectable, both with captains who have themselves, yet to embrace respectability.
Till Dawn Tames the Night

Author: Meagan McKinney
Publisher: Dell
Date: April 2, 1991
Pages: 467
Genre: Historical Romance
Till Dawn Tames the Night by Megan McKinney, happens as directed above to a prim and proper English school mistress, on a ship bound for Jamaica where she believes she is to take a position as a lady's companion. Little Aurora Dayne has no idea that it's all a ruse brought about by the ship's captain, the quite dastardly and dangerous Vashon. Vashon believes that Aurora is in possession of information that will lead him to a priceless treasure that was spirited away by Aurora's father, an accomplished thief. We have a kidnapping, a tussle and ultimately an unbreakable bound but not before we have a great deal of sexual tension and interpersonal strife.
Gentle Rogue

Author: Johanna Lindsey
Publisher: Avon
Date: December 1, 1990
Pages: 448
Genre: Historical Romance
Gentle Rogue marks my second run in with romance author Johanna Lindsey so I knew a bit of what to expect with this pirate romance. Lindsey's novel is quite tame when compared to Mckinney's. Georgina Anderson, shipping heiress, sister to five brothers and stubborn, naive hot head, has gone to England in search of her long-lost fiancé. When she failed to recieve word from him in over six years, it shouldn't have surprised Georgie that her wayward love had long since forsaken her for another. Interesting times have left George and her friend Mac stranded in England without funds and in great need of getting back to America before Georgie's flight is discovered. It makes perfect sense that she and Mac would hire themselves out to work on a ship in exchange for passage back to America, just as it makes perfect sense for Georgie to disguise herself as a cabin boy to James Malory, a licentious English lord who is on to her from the start.
Of our two "heroes" I'm quite fixedly team Vashon. I couldn't stand Malory's voice and his incessant and boisterous dialogue. James, how can we lust after you if won't stop talking? Don't you know that the hero is just around to brood and look good? Vashon was an absolute slime of a human being which of course I found endearing because one must always root for the bad boy to win. But where James was all talk, Vashon simple carried out his evil plans without a lot of quip.
Aurora was a little mouse of a thing and she never developed any backbone so I could take or leave her. But Georgie was a troublesome, interfering insufferable hell raiser (I guess I can relate) and I supported her antics from the start. Couldn't we have them switch and let Georgina and Vashon get together? That's the primary reason I chose to talk about these two books together. I loved half of each of them SO MUCH that I just want to squish the two together and let the parts I don't like fall out.
Still, they were both great pirate romances and I greatly enjoyed them both. I enjoyed them even though the cover of Gentle Rogue, being one of those covers screams "THIS WOMAN IS READING TRASH! LOOK! RIGHT THERE! TRASH!" Lurve. Yay for pirates.
When Beauty Tamed the Beast

Author:Eloisa James
Publisher: Avon
Date: February 1st 2011
Series: Happily Ever Afters #2
Pages: 372
Genre: Historical Romance
Source:Purchased
Linnet Thrynne has just thoroughly botched up her debut first season. What started as a harmless flirtation with a prince has ended in her being the talk of the ton. Of course she knew that a prince could never marry the daughter of a lowly viscount but it was just a bit of kissing- a bit of kissing witnessed by the Duchess, mind you and now Linnet is ruined. Ruined, thanks to the kiss, the refusal of the prince and well, a ball gown that had far too many ruffles around the middle for people to believe that it was just a kiss. Now she's to be bundled off to Wales, rumored royal bun-in-the-oven and all, and given in marriage to a Duke's son. This would seem like a fortunate turn of events if it wasn't for the fact that the only reason the Duke desires the match is because his son is incapable of siring a child and he wants an heir with a tinge of royal blood. But there's no baby, and soon Linnet will have to break the news to her new fiancé, a man everyone refers to as The Beast.
I fell in love with Eloisa James when I read the first book in this series, A Kiss at Midnight. It was so witty and funny and wildly romantic that I ran out and picked up a few more of her books. Her writing is gorgeous and she writes the most adorable characters! She makes even the bad guys loveable.
This little story was so much more than I expected. With all the Beauty and the Beast overtones, I was expecting something much more predictable than I got. I adored Piers, The Beast, instantly. He's a remarkably gifted doctor with the very worst bedside manner and where one would expect that he'd fall face first under the spell of his new Beauty, it's quite the opposite in fact. He openly mocks her coquettish behavior and refuses to be another of her ballroom conquests and why shouldn't he? After all, he is completely unaffected by her, having suffered a debilitating injury that has left him, ahem, immune to her charms. Linnet is forced for the very first time to rely on something other than her beauty to get her out of her most unfortunate situation. I laughed and laughed at this story, until I started crying like a big burbling idiot towards the end where it takes a most unexpected turn.
I plan on reading each and everyone one of Miz Eloisa's books because I just love her characters and her excellently crafted little worlds. If you are a fan of happy romances, regency ones at that, you'll fall just in much in love with this book as I did.
I have a whole stack of her books right here and you can't have them. They're all mine.