In between my reread of The Graceling Realm novels by Kristin Cashore and my new found love for Regency Era Vampire Romance (which we'll talk about in a few more weeks), I've managed to read a few new things that deserve a mention. While this wasn't the best reading run I've had, it wasn't the worst.


read more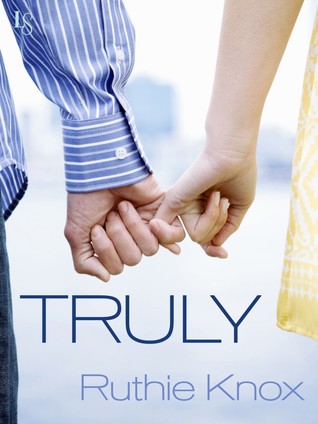 Expected publication: August 5th 2014
Publisher: Loveswept
Website: Author
Info: Goodreads
May Fredericks hates New York. Which is fair enough, since New York seems to hate her back. Just weeks after moving from Wisconsin to Manhattan, she receives the world's worst marriage proposal, stabs her boyfriend with a shrimp fork in a very public venue, and accidentally becomes notorious. And that's before she gets mugged.

At her wit's end, May washes up at a Packers bar in Greenwich Village, where she meets a surly, unhelpful guy who hates her shoes and calls her ex a douche.

His name is Ben. He used to be a chef. Now he's a rooftop beekeeper with anger management issues. She wouldn't even like him, but he reminds her of home … and he knows where to find all the best food in the Village.

She makes him laugh. He buys her tacos and cowboy boots. The longer they're stuck together, the better May and Ben get along … and the harder they fall. TRULY is a quirky, modern New York love story unlike any you've read before.

I was always going to read this. Always. Ruthie Knox has shaken my world in terms of what to expect out of contemporary romance, and by that I mean, she's spoiled me so that I will only accept the very best. I missed Truly's initial debut on Wattpad because reading things in yet another way was a new trick that this old dog wasn't quite into at the time. Then lo' it appeared on Netgalley, bathed in glitter and light and thus it became mine.


read more
The paws! The paws underwater!
And THAT cat. Cat videos are really what the internet is all about anyway…
I'm on a real fantasy kick at the moment. Well, I bounce back and forth between trashy pirate romance novels and traditional fantasy stories, which makes for an interesting combination. I'm currently knee deep in Sabriel by Garth Nix and my book club, YAckers, is reading (or rereading in my case) The Graceling Realm books by Kristin Cashore.
I don't know about you, but I fall into fantasy stories. Those are the books where I lose hours, whole days, weeks of real time and only come back to myself when the book has finished and the story has finally settled. Graceling is a perfect example of this. It's a reread for me and still I'm just as hooked, just as lost in and just as at home in Cashore's world as I was with the first reading. There's even a map. You really can't go wrong with a fantasy book that comes complete with a map of the world. Happiness is.


read more
Published: May 13, 2014
Publisher: Delacorte Press
Website: Author
Info: Goodreads
A beautiful and distinguished family.
A private island.
A brilliant, damaged girl; a passionate, political boy.
A group of four friends—the Liars—whose friendship turns destructive.
A revolution. An accident. A secret.
Lies upon lies.
True love.
The truth.

We Were Liars is a modern, sophisticated suspense novel from National Book Award finalist and Printz Award honoree E. Lockhart.
Read it.
And if anyone asks you how it ends, just LIE.
Sya over at The Mountains of Instead, burst into bookclub with frenzied, hurried exclamations and demands that we all read this book. Some of us read it and some of us passed. A few thought it hung the moon and a few thought it never left the ground. This Jane was of the latter.


read more
Reviews moved over from Bitching, Books and Baking:
Scarlet by Marissa Meyer
Wedding Nigh b Sophie Kinsella
Big Boy by Ruthie Knox
Quickie reviews: The Girl of Fire and Thorns, Onyx, Austenland, 'Til the World Ends
Unravel Me by Tahereh Mafi
Twenties Girl by Sophie Kinsella
Paper Valentine by Brenna Yovanoff
Fever by Lauren DeStefano
Pushing the Limits by Katie McGarry
Among Others by Jo Walton
Everdark by Elle Jaspser
For Darkness Shows the Stars by Diana Peterfreund
The Bevelstoke Series by Julia Quinn
Falling Kingdoms by Morgan Rhodes
Raw Blue by Kirsty Eagar
Breakfast At Tiffany's by Truman Capote