In between my reread of The Graceling Realm novels by Kristin Cashore and my new found love for Regency Era Vampire Romance (which we'll talk about in a few more weeks), I've managed to read a few new things that deserve a mention. While this wasn't the best reading run I've had, it wasn't the worst.


read more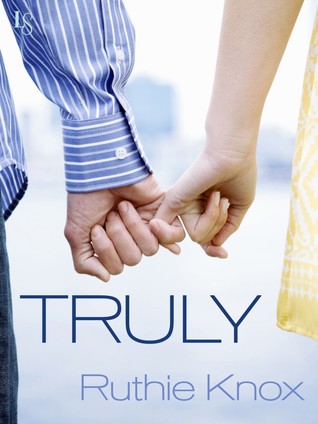 Expected publication: August 5th 2014
Publisher: Loveswept
Website: Author
Info: Goodreads
May Fredericks hates New York. Which is fair enough, since New York seems to hate her back. Just weeks after moving from Wisconsin to Manhattan, she receives the world's worst marriage proposal, stabs her boyfriend with a shrimp fork in a very public venue, and accidentally becomes notorious. And that's before she gets mugged.

At her wit's end, May washes up at a Packers bar in Greenwich Village, where she meets a surly, unhelpful guy who hates her shoes and calls her ex a douche.

His name is Ben. He used to be a chef. Now he's a rooftop beekeeper with anger management issues. She wouldn't even like him, but he reminds her of home … and he knows where to find all the best food in the Village.

She makes him laugh. He buys her tacos and cowboy boots. The longer they're stuck together, the better May and Ben get along … and the harder they fall. TRULY is a quirky, modern New York love story unlike any you've read before.

I was always going to read this. Always. Ruthie Knox has shaken my world in terms of what to expect out of contemporary romance, and by that I mean, she's spoiled me so that I will only accept the very best. I missed Truly's initial debut on Wattpad because reading things in yet another way was a new trick that this old dog wasn't quite into at the time. Then lo' it appeared on Netgalley, bathed in glitter and light and thus it became mine.


read more
The paws! The paws underwater!
And THAT cat. Cat videos are really what the internet is all about anyway…
I'm on a real fantasy kick at the moment. Well, I bounce back and forth between trashy pirate romance novels and traditional fantasy stories, which makes for an interesting combination. I'm currently knee deep in Sabriel by Garth Nix and my book club, YAckers, is reading (or rereading in my case) The Graceling Realm books by Kristin Cashore.
I don't know about you, but I fall into fantasy stories. Those are the books where I lose hours, whole days, weeks of real time and only come back to myself when the book has finished and the story has finally settled. Graceling is a perfect example of this. It's a reread for me and still I'm just as hooked, just as lost in and just as at home in Cashore's world as I was with the first reading. There's even a map. You really can't go wrong with a fantasy book that comes complete with a map of the world. Happiness is.


read more
Published: May 13, 2014
Publisher: Delacorte Press
Website: Author
Info: Goodreads
A beautiful and distinguished family.
A private island.
A brilliant, damaged girl; a passionate, political boy.
A group of four friends—the Liars—whose friendship turns destructive.
A revolution. An accident. A secret.
Lies upon lies.
True love.
The truth.

We Were Liars is a modern, sophisticated suspense novel from National Book Award finalist and Printz Award honoree E. Lockhart.
Read it.
And if anyone asks you how it ends, just LIE.
Sya over at The Mountains of Instead, burst into bookclub with frenzied, hurried exclamations and demands that we all read this book. Some of us read it and some of us passed. A few thought it hung the moon and a few thought it never left the ground. This Jane was of the latter.


read more
Reviews moved over from Bitching, Books and Baking:
Scarlet by Marissa Meyer
Wedding Nigh b Sophie Kinsella
Big Boy by Ruthie Knox
Quickie reviews: The Girl of Fire and Thorns, Onyx, Austenland, 'Til the World Ends
Unravel Me by Tahereh Mafi
Twenties Girl by Sophie Kinsella
Paper Valentine by Brenna Yovanoff
Fever by Lauren DeStefano
Pushing the Limits by Katie McGarry
Among Others by Jo Walton
Everdark by Elle Jaspser
For Darkness Shows the Stars by Diana Peterfreund
The Bevelstoke Series by Julia Quinn
Falling Kingdoms by Morgan Rhodes
Raw Blue by Kirsty Eagar
Breakfast At Tiffany's by Truman Capote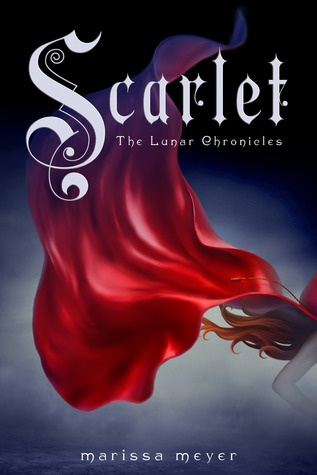 Published: Februrary 5, 2013
Publisher: Feiwel and Friends
Website: Author
Info: Goodreads
Cinder, the cyborg mechanic, returns in the second thrilling installment of the bestselling Lunar Chronicles. She's trying to break out of prison—even though if she succeeds, she'll be the Commonwealth's most wanted fugitive.

Halfway around the world, Scarlet Benoit's grandmother is missing. It turns out there are many things Scarlet doesn't know about her grandmother or the grave danger she has lived in her whole life. When Scarlet encounters Wolf, a street fighter who may have information as to her grandmother's whereabouts, she is loath to trust this stranger, but is inexplicably drawn to him, and he to her. As Scarlet and Wolf unravel one mystery, they encounter another when they meet Cinder. Now, all of them must stay one step ahead of the vicious Lunar Queen Levana, who will do anything for the handsome Prince Kai to become her husband, her king, her prisoner….(goodreads.com)
I read Cinder in the way-back-when, and enjoyed it. It had its little quirks but ultimately you can't deny the draw of a FREAKIN' CYBORG CINDERELLA. I mean- robots, aliens, a bit of dystopia and CINDERELLA. That's kind of an ALL STOP.


read more
Published: April 23, 2013
Publisher: The Dial Press
Website: Author
Info: Goodreads
Lottie just knows that her boyfriend is going to propose during lunch at one of London's fanciest restaurants. But when his big question involves a trip abroad, not a trip down the aisle, she's completely crushed. So when Ben, an old flame, calls her out of the blue and reminds Lottie of their pact to get married if they were both still single at thirty, she jumps at the chance. No formal dates—just a quick march to the altar and a honeymoon on Ikonos, the sun-drenched Greek island where they first met years ago.

Their family and friends are horrified. Fliss, Lottie's older sister, knows that Lottie can be impulsive—but surely this is her worst decision yet. And Ben's colleague Lorcan fears that this hasty marriage will ruin his friend's career. To keep Lottie and Ben from making a terrible mistake, Fliss concocts an elaborate scheme to sabotage their wedding night. As she and Lorcan jet off to Ikonos in pursuit, Lottie and Ben are in for a honeymoon to remember, for better . . . or worse…(goodreads.com)
I'm a Kinsella fan (even of her books that I didn't like) so I was more than eager to pick up her latest novel. She's fun, ya know? You mix a funny romance, quirky characters, some I Love Lucy charades and top it all off with a happy ending. I always know what I'm getting into with a Kinsella novel and there's a certain comfort in that.


read more
Published: April 2, 2013
Publisher: Samhain
Website: Author
Info: Goodreads
Meet me at the train museum after dark. Dress for 1957.

When Mandy joins an online dating service, she keeps her expectations low. All she wants is a distraction from the drudgery of single parenthood and full-time work. But the invitation she receives from a handsome man who won't share his real name promises an adventure—and a chance to pretend she's someone else for a few hours.

She doesn't want romance to complicate her life, but Mandy's monthly role-playing dates with her stranger on a train—each to a different time period—become the erotic escape she desperately needs. And a soul connection she never expected.

Yet when she tries to draw her lover out of the shadows, Mandy has a fight on her hands…to convince him there's a place for their fantasy love in the light of day.
So I don't normally do short stories. I like to settle in and spend time with a story and its characters. I really want to get to know everybody and everything. I like to just move right on in and get all up in their business. The very small, short glimpse into the bigger picture (that is all that novellas tend to give), doesn't really hold a lot of appeal for me, but I saw this one, and something inside me dared me to go for it.


read more
Yes, this is me playing catch-up again. I've been in a bit of a blogging slump here lately and I've racked up quite a few reads during my hiatus. Donna has been rather emotionally abusive about the whole thing but I keep forgiving her because she always promises to never do it again and then she buys me a present (our blogging relationship may or may not be a healthy one). So without further ado, here's me talking about the books I've read lately: